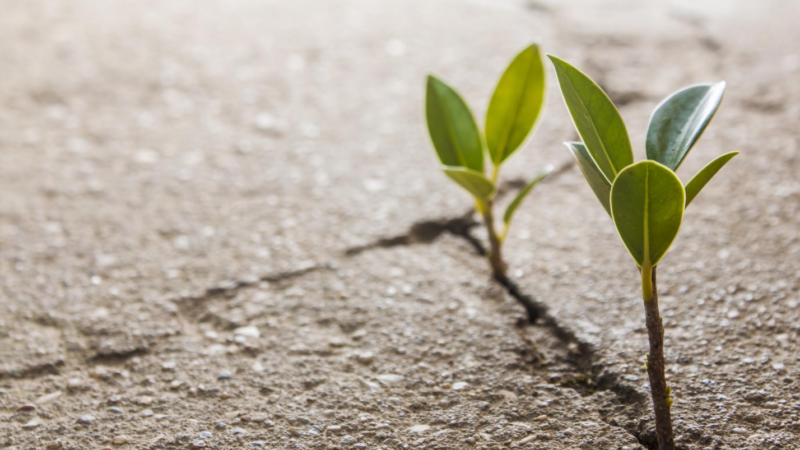 Rebuilding Credit After Bankruptcy.
Filing for bankruptcy will not wreck your credit score forever! This misconception is one of the greatest myths surrounding filing for bankruptcy and the number one reason for some people to delay filing. If you're like the millions of people struggling to keep up with your debts but are concerned about your credit score after you file for bankruptcy, keep reading this article because rebuilding your credit after bankruptcy is possible. 
A bankruptcy filing can remain on your credit report from 7 to 10 years. A Chapter 7 bankruptcy will survive for ten years on your credit report, while a Chapter 13 bankruptcy is removed in 7 years from your credit report. This is similar to the situation where you missed several credit card payments, which also remain on your credit report for years. 
Unless you have always sent timely payments to all of your creditors, there is a high probability that your credit score has already been negatively impacted. However, missed payments to your creditors on your credit report is not the same as a bankruptcy filing because only bankruptcy allows you to improve your credit and provides you with a fresh financial start.  
How Can I Increase My Credit Score After Bankruptcy?
It is possible to increase your credit score after a bankruptcy, and it's much simpler than trying to lift your credit score after missed and late creditor payments. Unfortunately, your credit score will not instantly be raised after you receive your bankruptcy discharge. You must be proactive and think carefully about what you will inorder to rebuild your credit after your bankruptcy case has been completed. 
The first step will be to live within your means and not use your new credit to meet your ongoing living expenses. Once you have accomplished this, applying for new credit will not leave you in a similar situation as you were in before bankruptcy. 
Create and stick to a Budget
It will take work to formulate a workable budget that you could stick to. You should not only guess what your income and expenses are. Instead, you can use the income and expenses you have listed on your Schedules I and J from your bankruptcy forms. If your daily expenses are higher than your income, you must find a way to earn more or reduce your expenses.
Staying on track with your budget is easier said than done, but luckily it is doable. Sticking to the fixed monthly payments such as rent, water, light, and car payments will be easy. The difficulty comes with optional expenses such as groceries and entertainment. The easiest way to keep within your budget for these things is to keep track of each dollar you spend. 
If this is your first time following a budget, tracking each dollar is particularly important. After some time, this task will become natural. Once a few months have passed, you will be able to take what you have learned and adjust your budget to better suit your needs. 
Budget for an Emergency Fund
It would be beneficial if you can to pay yourself first by placing a certain amount of your income into a savings account. The best way to do this is to make your emergency fund a fixed monthly expense and budget accordingly. It would be better if you did not wait to see how much money you have left after paying your expenses. You must take action to ensure these funds are deposited into your savings account. 
The emergency fund will provide you with a financial cushion if you're faced with an emergency and need funds such as your car or ac breaking down. The emergency fund will help you avoid using other funds you have budgeted for your fixed monthly expenses, such as rent or mortgage. The last thing you'd want to do is use your high-interest credit card or loan to pay for an unexpected bill.
Apply the information from Your Financial Management Course 
The Financial Management Course is the second bankruptcy course you had to complete to get your discharge? You should apply the information you learned in your daily life. There are also many free tools available to help you keep your budget! Many clients enjoy using Mint to stay on track.  
Essential Steps that will Improve Your Credit Score After Your Bankruptcy.
Above, we discussed how to stay on budget and avoid using credit now. Continue reading below for ways to improve your credit score. 
1. Stay Current with Debts that were not Discharged in Bankruptcy 
Suppose you have recently completed a Chapter 7 bankruptcy, which included a car loan. In that case, you must make all the car payments timely regardless of whether you reaffirmed the car loan or got a new car loan in order to redeem your car. It is even more important to make timely payments if you surrendered your car in bankruptcy and took out a new loan after filing.
2.
Be Added to Someone Else's Credit Card as an Authorized User
Be added as an authorized user on a credit card that belongs to a family member or friend is an excellent way to rebuild your credit. When you use the credit card responsibly and make timely monthly payments, your credit score will increase even though you are not liable for the debt. As an authorized user, you won't have to use the card to get the benefit of timely payments being reported on your credit report.
It is important to note that not all credit card companies report authorized users to the credit bureaus. You should also make sure that the credit card owner you are an authorized user on has maintained a good payment history and has good credit.
3. Get A Secured Credit Card 
Just like a regular credit card, with a secured credit card, you must deposit money with the credit card issuer before you can borrow against it. Interest will still be charged on your secured card, but your timely statement payments will be reported on your credit report. This is a great way to help build an excellent payment history. 
4. Get A Credit Builder Loan
With a credit builder loan, your bank or credit union will be acting as your lender and deposits your loan payments into a savings account. Once approved for this type of loan, the amount you obtain is maintained in an account while you make payments. You may not access the loaned funds until you have completely repaid the loan, thereby helping you build an emergency fund and increase your credit score at the same time. 
5. Apply for an Unsecured Credit Card
Getting a new credit card can increase your credit score. Before your bankruptcy is completed, you will most likely receive credit card offers. It is important to review these offers carefully as credit card companies may charge a very high-interest rate after discovering you have received a bankruptcy discharge. Because of the high-interest rates, you should only charge what you can pay back each month.
6. Establish Good Debt Management Habits
You should become accustomed to repaying more than the minimum payment if you cannot pay the bill in full. It would be best if you were mindful of your credit utilization, as your card balances should not be more than 30% of your credit limit. Going over 30% will harm your credit score.  
Monitoring Your Credit Report
Once you have completed your bankruptcy, rebuilding your credit demands being vigilant with your credit report. This way, you can follow your progress and guarantee your hard work is paying off. 
The great news is that TransUnion, Experian, and Equifax will provide you with a free credit report once a year. So you may get your free credit report every year. It would be best if you staggered, pulling each report throughout the year instead of all at once. 
Contact a Miami Lakes Bankruptcy Attorney for Guidance on How to Rebuild your Credit After Bankruptcy.
If you're like many people struggling to keep up with your debts but are concerned about your credit score after you file for bankruptcy, you should contact our Miami Lakes Bankruptcy Attorney and find out how you can rebuild your credit after you have gotten a fresh start after a bankruptcy filing. 
Consultations Available At:
Consultations Available At: